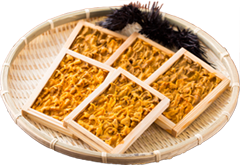 01
Uzuno Oka Kaisen Uni Shabu
that has been covered
in various media!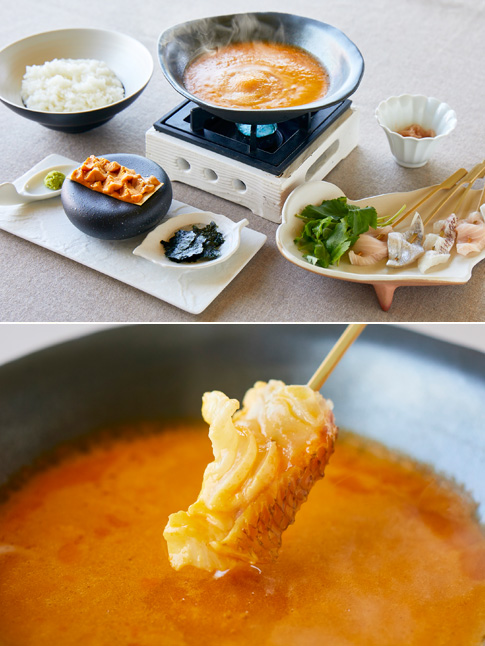 Uzuno Oka Kaisen Uni Shabu
¥4,400~ Market price(tax included)
"Uzuno Oka Kaisen Unishabu"is a high-quality hot pot dish that conveys the bountiful seasons of Awaji Island luxuriously. Enjoy the exquisite umami taste mixed with rice porridge at the end!
An exquisite lunch menu featured in ABC Asahi Broadcasting's"Good morning Asahi"and"Cast", as well as Yomiuri TV's"Osaka Honwa TV", and many other TV programs and magazines!
Special movie!
Enjoy a shabu-shabu dish with a rich and creamy sea urchin soup and seafood skewers.
Then, scoop a bit of fresh sea urchin by a spoon and put it on top of the soup to enjoy "sea urchin on sea urchin".
Add the vegetables and flavoring ingredients to the sea urchin soup and taste the sea urchin hot pot.
Top the rice with some fresh sea urchins to make the"sea urchin rice bowl". Add a little island salt to enhance the sea urchin flavor.
Finally, add rice to the remaining urchin soup to make the rice porridge. End your meal with a luxurious "sea urchin rice porridge", garnished with delicious seaweed and wasabi!
Uzuno Oka seafood sea urchin shabu can be enjoyed at"Zekkei Restaurant Uzuno Oka"
Address

Uzuno Oka Onaruto Bridge Memorial Hall 2F, 936-3 Hei Fukura, Minami Awaji, Hyogo

Opening hours

From 10:00 to 15:00 (LO)
*when many customers are waiting around the closing time, the reception may be closed earlier than scheduled.

Closed

Closed on Tuesdays (may open temporarily during holidays or peak periods)
*Closed on December 31 and January 1
*Please check the website for details.

Contact

0799-52-2888

Phone number for
your car navigation system

0799-52-2888


【From Awajishima Minami IC】drive 1 km to Uzuno Oka Onaruto Bridge Memorial Hall --- 2 minutes
*Uzuno Oka Onaruto Bridge Memorial Hall is not on the expressway, but on a regular road.
*Please note that if you go south from Awajishima Minami IC, you will cross the island to Tokushima.